River School FAQ's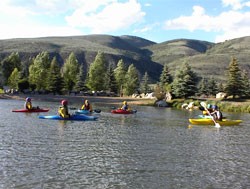 The Instructors:
Our standards for instructors are some of the highest you'll find anywhere, so that you have a great experience on the water
We recruit from across the United States.
Lead instructors are ACA Whitewater Kayak certified, have river rescue, first aid and CPR.
Not only do the instructors have the best qualifications, they know how to teach, have the right personality, are patient, safe and can show you a great time.
Our lead instructors are professionals with years of teaching experience.
Assistant instructors are gaining experience by watching and helping the lead instructors. They have the same high standards.
Our School:
Proven methods that help you learn fast!
Alpine Quest Sports has been teaching since 1989. Our proven teaching methods make the difference in learning.
Our teaching methods provide a fast, confident progression.
Over 150 miles of river available nearby on the Colorado, Eagle and Roaring Fork Rivers. One of the few permitted schools to teach/guide on the Shoshone Rapids in Glenwood Canyon.
Classes for all abilities and ages.
Not only are the classes effective, but they are fun!
Low student to instructor ratio.
The Upper Colorado River provides a perfect teaching environment for beginners. This is one of the best beginning stretches we have found in the U.S.
The Equipment:
The best selection of kayaks and gear, so that you will have the right fit and be comfortable.
We supply all of the equipment and clothing. State of the art gear.
New kayaks every year. Over 50 kayaks from Dagger, Jackson Kayak and Pyranha. Over 20 models to choose from, so you have the proper fit and performance.
What class should I take?
Interested in seeing what kayaking is all about?
Try: A ½ Day Sit-on-Top Kayak Tour
When: Daily May-Oct
Cost: ½ Day trips start at $109
Interested in learning whitewater kayaking?
Take: A Beginner River Class.
When: May-Oct. Weekdays and Weekends. Class consists of a 3-4 hour lake session in the evening or afternoon and then the next full day on the Colorado River.
Cost: $189 Call for private and group rates!
Want to learn how to Roll?
Take: A pool roll class
When: Saturday nights 6:15- 9:00pm
Cost: $45 Call for reservations
Want to do Class III?
Take: A group or private lesson on the Shoshone Rapids in Glenwood Canyon
When May- October
Cost: Depends on number of runs and group size
Can my child learn to kayak?
Take: Beginner group river class participants must be 11 yrs old to go on the river.
Take: A private lake class with your children of age 8 and up.
Every summer we also offer kayak camps for kids ages 8-16
Want to learn everything in 1 day?
Note: This is only for those who are very athletic and in good shape!
Take: One day intensive beginner river class.
When: April- Oct
Cost: Private rates apply
What should I bring/ wear to my kayak class?
All of your kayaking equipment is included with your class. These items are: a kayak, paddle, helmet, sprayskirt, PFD, wetsuit & paddle jacket. You must bring your own footwear. i.e. Wetsuit booties, aquasocks, etc... & lunch.
You should bring comfort items such as: sunscreen, sunglasses, towel, water bottle, waterproof camera & anything else to help keep you comfortable for a day in the sun.
Where is Alpine Quest Sports?
Alpine Quest Sports is centrally located in both the beautiful Vail Valley & Aspen Valley of Central Colorado. More specifically we are in Edwards & Glenwood Springs, CO.
Driving Directions & Contact info
I don't have any experience, can I kayak?
Yes, most of our students have had little to no prior kayaking experience. "First timers" are our specialty!
It is good to be comfortable around water & a strong swimmer.
When is the kayak season in Colorado?
Alpine Quest teaches kayaking 9 months out of the year.
River Classes are offered from late Apr- mid Oct.
Pool Classes are indoors and are taught from Feb- Oct.
Will I get wet?
Yes, In our beginner class you are required to do a "wet exit". You will also get splashed by smaller beginner rapids.
During a sit-on-top tour, you will be splashed by waves in the river and there is always a possibility of finding yourself in the river.
We require protective footwear on all river classes/trips and provide you with a wetsuit and/or splash jacket as needed.
Should I tip my instructor?
We feel Alpine Kayak School's instructors are some of the best in the biz. As in any service oriented business, if you feel like your instructor did a good job, a tip of 15-20% is customary.
Can I rent a kayak?
Yes & No.
If you have taken a class with Alpine Quest Sports or have river kayaking experience you can rent a kayak. If you have little or no river kayaking experience we will not rent you a kayak. Kayaking can be very dangerous for the inexperienced or unguided. We suggest you take a class to get the basics and get comfortable in a whitewater kayak. Whitewater kayaking is quite different from rafting, canoeing & sea kayaking. We think it is much more fun too!!
Where are the classes & trips?
Alpine Quest Sports has access to over 100 miles of rivers in central Colorado. We teach primarily on the Upper Colorado River, but also hold classes on the Eagle & Roaring Fork Rivers (water levels & skills depending). Lake classes are taught on a local lake close to Alpine Quest & Pool Classes are taught indoors at the Avon Recreation Center.
Are you certified to give kayak lessons?
Alpine Quest Sports prides itself on the quality of instructors and programs. AQS holds its instructors to some of the highest standards for kayaking instructors. All instructors have First Aid Certification, CPR, Swiftwater Rescue training and all lead instructors are certified by the American Canoe Association (ACA) in whitewater kayaking instruction.
Alpine Quest Sports also holds a River Outfitter License from the Colorado Division of Parks & Outdoor Recreation & Special Use permits from the BLM & USFS.
Be sure to check the qualifications of other schools & instructors when comparing.
Can my kids come along?
Students for all river activities must be at least 11 years old and comfortable in the water. Children as young as 7 may participate in private lake classes when accompanied by an adult.
Kids ages 8-16 can check out our 4 day summer kayak camps.
Children 8-12 may wish to look into Beaver Creek Resort's Kid's Day Adventure Camp Kayaking Day which is sponsored by Alpine Quest.
What is your trip/ class cancellation policy?
Due to classes filling up quick and a short summer season, Alpine Quest Sports maintains a strict 48 hour cancellation policy. A credit card is required to hold a reservation. Any cancellations within 48 hours will be charged 100%. Students may reschedule, but no refunds will be given.